Building 26 Renovation
Students seeking health care careers will soon learn in the state-of-the-art Health and Life Sciences Building. To create the new space, Highline's Building 26 is undergoing a major renovation.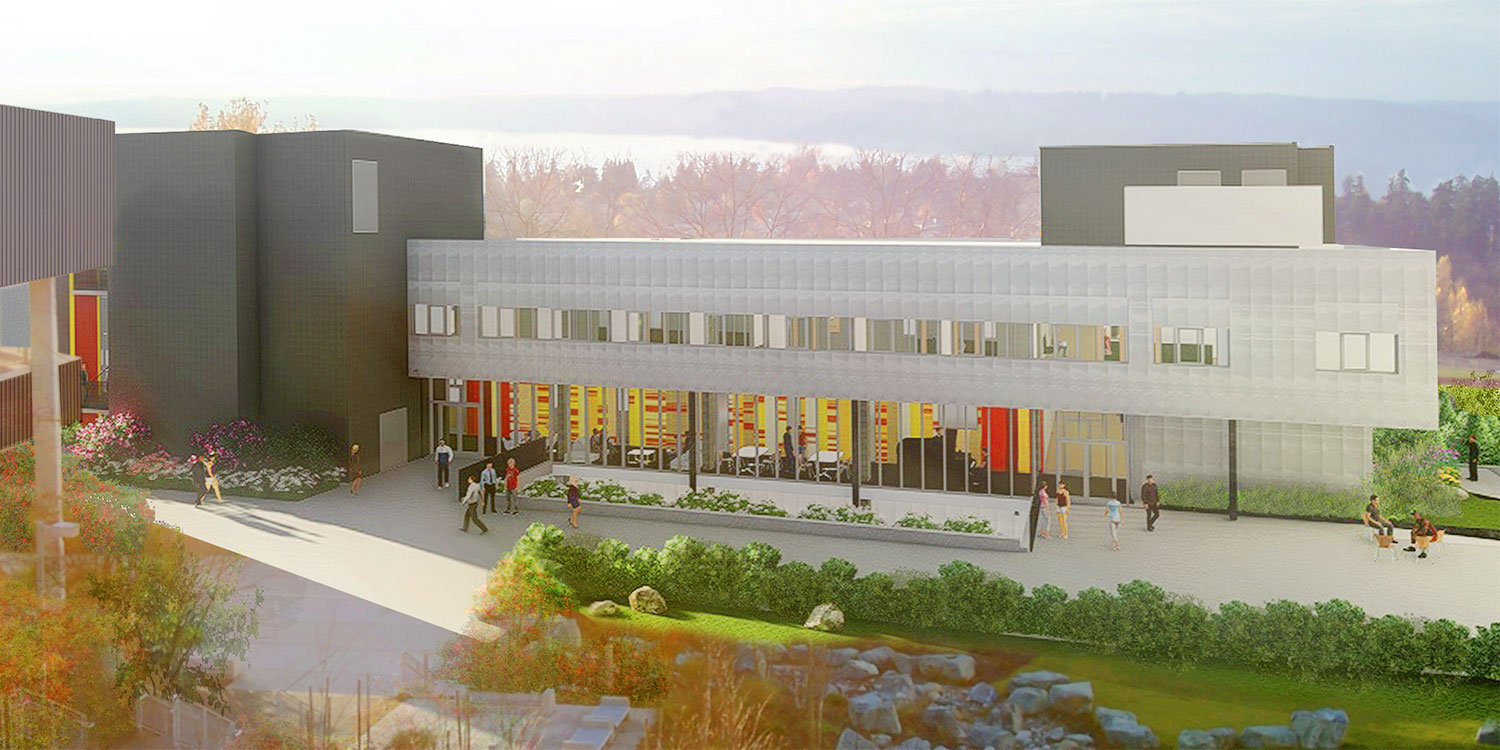 Learn more:

Construction Updates and Alerts:

Learn the latest in the construction process. Here you will also find important alerts, such as when pathways will be blocked and when construction vehicles will be in the neighborhood.

Timeline:

Learn about project milestones and the construction schedule in the Timeline section.

Project Overview:

Curious about the building and what it will look like once completed? Find information and images in the Project Overview section.
Construction Updates and Alerts
Update: May 9, 2018
Work to Begin Soon: Pease Construction, the contractor for the Building 26 renovation, is on site and ready to begin. Beginning Monday, May 14, the parking spots around Building 26 and west of Building 25 will no longer be available to faculty and staff, as that area will be the contractor's staging and work area. A construction fence will be installed starting next week around Building 26. While every precaution will be taken to keep all staff and students as safe as possible, be aware and alert while walking close to the construction zone. There may be noise and equipment activity around the building during construction. Questions? Contact Christina Neville-Neil: cnevilleneil@highline.edu or (206) 592-3262.

Update: May 7, 2018
Building Health and Wellness at Highline: In a symbolic gesture of changes to come, dignitaries at the May 7 Demolition Day event don hard hats and hold sledgehammers and shovels outside of Building 26 at Highline College. The building's interior will be gutted to create a state-of-the-art health and life sciences facility.
Pictured from left: Board of Trustees Chair Debrena Jackson Gandy, Trustee Sili Savusa, Trustee Dan Altmayer, Rep. Kristine Reeves, Interim President Jeff Wagnitz and Trustee Bob Roegner.
Rep. Reeves and Sen. Karen Keiser, who also attended the event, were instrumental in securing $23.37 million in construction funding for the renovation during the 2018 session of the legislature.

Update: April 23, 2018
Demolition Day Coming Soon: You won't have to dodge falling debris when you join us for Building 26 Demolition Day at Highline College. Help celebrate the start of the major building renovation, Highline's first significant capital project in more than a decade. Mark your calendar: May 7 at noon. Meet outside of Building 26. Hard hat not required.
Timeline*
Below is the anticipated construction schedule. Provided all goes as planned, students will begin fall quarter 2019 classes in the renovated building.
May 7, 2018: Demolition Day
Feb. 2019: 50% Construction Completion
Sept. 2019: Substantial Completion
Sept. 2019: Building Occupancy
*Timeline subject to change.
Project Overview
More Room for More Students in High-Demand Health and Wellness Careers
Currently a 3-story concrete masonry structure, Building 26 will undergo a major renovation, creating an integrated, flexible learning environment needed to meet the growing demand for health care professionals. It is the college's first significant capital project in more than a decade and the highest priority project in the Highline College Master Plan.
As of now, health and wellness-related programs are scattered across campus in four separate buildings. Unifying them in one central location will allow students of various disciplines to interact in a real-world environment. And it will create more room for more students. Waiting lists are common for programs, such as nursing, due to existing space being insufficient to meet student demand.
The renovation is designed to accomplish the goals set according to Leadership in Energy and Environmental Design (LEED) Silver standards. This will be Highline's first LEED-certified building and a model of sustainability on campus. The college is committed to specifying high-efficiency systems that use less energy, aid with reducing greenhouse gas emissions and create a more sustainable campus.
Project Quick Facts
Total project cost estimate:
$30,368,000 (design and construction)
Project area:
46,068 square feet (renovation and addition)
Method of construction:
Design, bid, build
Design standards:
LEED Silver standards (first on campus)
Project partners:
Architect: McGranahan Architects
General contractor: Pease Construction
Building history:
A 3-story concrete masonry structure, Building 26 was designed by architect Robert Billsbrough Price and constructed in 1975 as part of Highline's third phase of campus construction (1974–78), after the campus opened in 1964. (For its first three academic years — 1961–62, 1962–63 and 1963–64 — the college was housed on a temporary basis at Glacier High School.) Building 26 was originally used for the college's Dental Technician, Nursing, Business Occupations and Automotive Repair programs.
Project Images